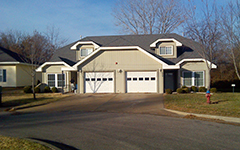 RoseVilla Safe Haven
527 & 529 Limit St.
Leavenworth, Ks 66048
Phone 913-250-5790
RoseVilla Safe Haven works in conjunction with the VA HCHV program to provide supportive services to homeless veterans.
We provide services for homeless veterans outside of the VA system utilizing a Safe Havens modeled program as an alternative to shelter care or as a placement after unsuccessful discharge from an inpatient or residential treatment program due to relapse-related issues.
A Safe Haven is a form of supportive housing that serves hard-to-reach homeless persons with severe mental illnesses and/or substance use disorders.
Most of these veterans are on the streets and have been unable or unwilling to participate in more traditional supportive services.
This low demand model of service delivery allows clients to engage in treatment and services at their own pace.
The goal of our program is to rapidly stabilize Veterans medical, mental health, substance abuse and other psycho-social problems in order to place Veterans in other appropriate transitional or permanent housing within 60 to 90 days, with no more than 180 days without a planned reason for the extension.